We're joining the Northwest Accountability Project and saying no to hate. Oregon is no place for attacks on LGBTQ people or workers.
Yesterday, the Northwest Accountability Project brought together activists from across the Pacific Northwest for a rally, calling on the M.J. Murdock Charitable Trust to immediately end funding of intolerant and extremist groups. While the Trust has a long history of funding valuable organizations that provide crucial services and outreach to communities in Washington and Oregon, a growing list of extremist organizations receiving contributions from the Trust has come to light.
The rally focused on some of the most ardent opponents of equality and workers' rights funded by the Murdock Charitable Trust:
The Alliance Defending Freedom, an organization described by the Southern Poverty Law Center as "virulently anti-gay." The ADF's cofounder has claimed that AIDS is a punishment for the LGBT community, and that marriage equality will cause "the fall of Western civilization itself." The ADF was also involved in the drafting of SB 1062 in Arizona, which would have allowed discrimination against LGBT people.
The Freedom Foundation, the out-of-state-billionaire funded extremist organization responsible for an all-out attack on working families in Oregon and Washington state.
The Portland Foundation, a group known for being at the forefront of the gay conversion therapy movement, who has claimed same-sex attraction "stems from relational wounds and dysfunction."
Protesters called on the Murdock Trust to stop funding intolerance, discrimination, and attacks on workers, and return to their mission statement of "enrich[ing] the quality of life in the Pacific Northwest."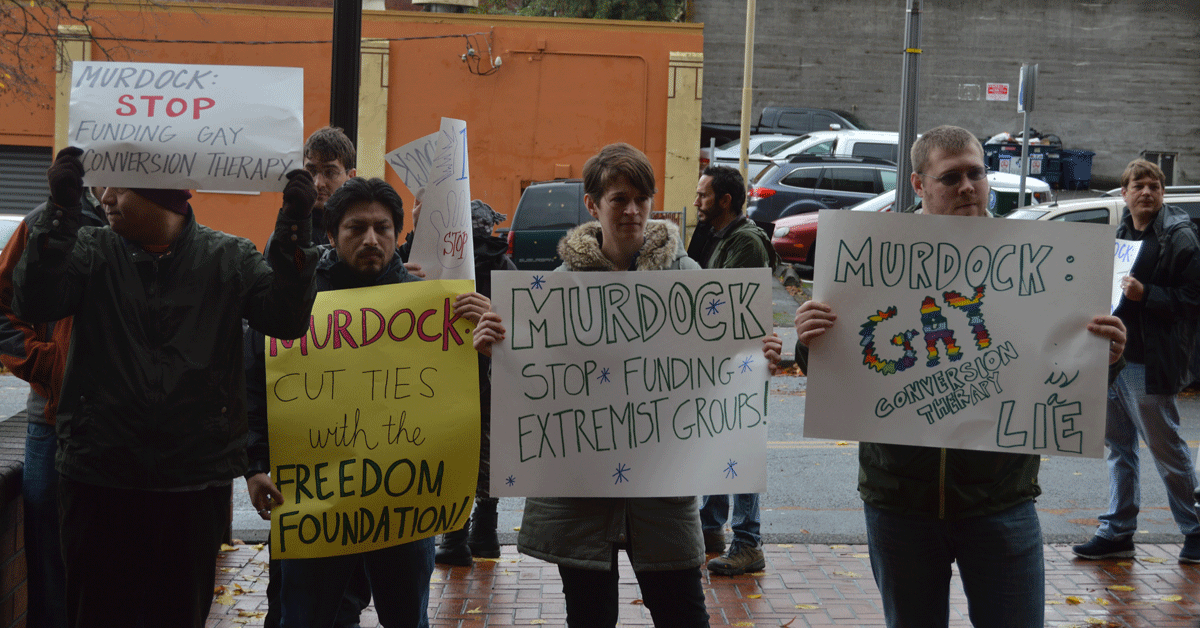 We stand with the protesters and the Northwest Accountability Project: There's no room for hate in Oregon. The quality of life in the Pacific Northwest stems from working families and our diverse communities, not from out-of-state billionaires.
If you missed the rally yesterday, it's not too late to stand up for equality and workers' rights. The Northwest Accountability Project is gathering petition signatures to urge the Murdock Charitable Trust to do the right thing and immediately withdraw funding from groups like the Alliance Defending Freedom and the Freedom Foundation.
We're stronger when we stand together, so please sign today and let the Murdock Trust know: we're standing together for ALL Oregon families.